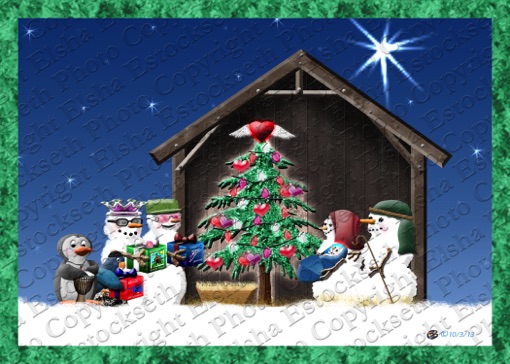 Inside: "May love light up your Christmas tree"
Hidden things:
•Bono and Adam as snowmen and two wisemen
•Larry as a penguin and the drummer boy
•Edge as a bird and the 3rd wise man
•the pink flower for Emilie Parker who was killed at Sandy Hook Elementary
•Larry's necklace -my I heart U2 logo
•Blue present - the colors of the Boston Red Sox with the angel shoe and the words Boston Strong in memory of the people who were hurt in the bombing at the marathon
•Green present - the colors of Sandy Hook Elementary and in memory of those lost in the tragedy. The pink flower is for Emilie Parker who is from utah that loved pink and was killed there.
•Red Present -the colors of the school in Oklahoma. The present is to support the people affected by the tornadao in Moore Oklahoma. There is a picture of the state with a tornado on it.
•the snowmen-the same nativity from my first card
•heart ornaments -U2 song Two Hearts Beat as One
•tree topper-heart with angel wings from the cover of U2's If God will Send His Angels album cover
•Christmas tree with lights -from If God will Send His Angels lyrics
•Snow -the U2 song White as Snow
•star- U2 song North Star